First, a confession. When I left home on the third leg of my "Fitba' Odyssey" bound for Methil to watch East Fife play their Scottish League Division Two match against Arbroath, the sum total of my knowledge of Methil was that line in The Proclaimers' "Letter From America" : Methil no more…
And that's it, apart from the fact that Bayview Stadium is smack-bang right next to the Firth of Forth – and who can resist a ground like that? Aerial views on Google Maps had whetted my appetite nicely, and this was a ground I was looking forward to visiting immensely.
I decided to drive to this match from Leith, and the Forth was bathed in spring sunshine as I headed North into the Kingdom of Fife. That really has to be one of the best views in the world – not only do you have the striking Forth Rail Bridge, crowning glory of Victorian railway-age engineering on your right, but on your left the towering piers of the new suspension bridge being built to replace the bridge I'm currently crossing, which has apparently exceeded its anticipated design life. Trying not to think too deeply about what "exceeding its anticipated design life" might mean in practice as I crossed it, I headed North then East into Fife, finding Methil with a minimum of grief.
So, Methil. I only had a quick drive around the town, but it really poses me a bit of a dilemma because at the start of this series I resolved to be positive whenever possible about the places I visited, and to pick out the noteworthy features. And from my cursory tour I honestly couldn't find any positives or noteworthy features.
In my innocence, when I'd seen the address of The Bayview Stadium as "Harbour View" I'd conjured up a lovely mental picture of a cluster of fishing boats sheltered in front of a row of multi-coloured fishermen's cottages, all festooned with nets and lobster pots – an image no-doubt subliminally imprinted by years of tourist boards advertising. But this was more docks than harbour – a working port, although to be honest I couldn't see many signs of recent activity. Instead, it resembled a small industrial estate, complete with characterless aircraft hangar-style units fashioned from green corrugated plastic, a few modern low office units and signs of an old railway sheds and other building associated with the docks. And as, to misquote Douglas Adams, it can hardly be a coincidence that no language on Earth has ever produced the phrase, "as pretty as an industrial estate" we won't linger on this subject any longer.
Sadly, though, the town of Methil itself wasn't any more attractive. Much of it appears to be a sprawling housing estate, with a road through the middle with shops and other businesses. But it appears that economics haven't been kind to Methil, and it's a town showing signs of depression, with many closed businesses and a drabness that suggests things are tough for its residents. Apart from a bus garage and various car dealerships, the only obviously functioning industry I saw in my short tour of the town was a massive modern plant dedicated to building wind turbines – I'd hope that this offers opportunities for work that will help improve prospects for the people of Methil. But when I was young my mother told me "if you've got nothing good to say, then don't say anything" so I'll end my description of Methil there, except to say I hope things pick up, economically, and I'll move onto the stadium and the reason for my visit, the football.
By 2.30 pm there was a steady stream of cars and pedestrians heading towards the stadium and I followed this and found myself driving past the handsome but basic main stand of the Bayview Stadium and into the car park, a part-tarmacked, part-rough area between the ground and the sea – and one delightfully free of charge. In the top two or three leagues in England the word de jour is "monetise" – anything that can be charged for will be charged for, and it's unthinkable that any football club there with a car park at the ground would contemplate not charging visitors to park there. What a breath of fresh air!
Talking of fresh air, before entering the ground I braved the brisk wind and climbed up the earth bank surrounding the car park to look at the sea – the view South can only be described as glorious, with the islands of Fidra and Bass Rock dominating the horizon.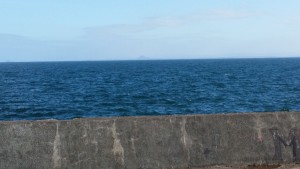 On buying my ticket and going into the stadium, what struck me most was how friendly everyone was – there was such a relaxed and welcoming feeling, the polar opposite of the feelings of oppression and suspicion you get at so many other grounds. And it was the same when buying half-time draw tickets and refreshments – an air of informality and relaxation. One of my feelings of trepidation when visiting small clubs would be that I might feel I was intruding on a "local club, for local people" but at East Fife I needn't have worried.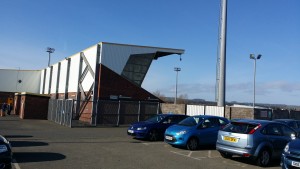 The stand – the only stand, in fact, as the other three sides of the pitch were surrounded by a narrow dirt strip and enclosed by a wall eleven breezeblocks high – was about half full as I took a seat in the back row, halfway between the centre line and the sea-end penalty area. I couldn't help noting again with pleasure that this wasn't a place where sophisticated marketing, technology and CRM systems get in the way of the football – season ticket holders get their name on their seat, and the only attempt to extract money from anyone over the tannoy before the game was an announcement about tickets for the end-of-season dance. Delightfully, the lady with the microphone advised anyone who wanted tickets for this to see her at half-time or after the match. I love the fact that this is a proper club – where anyone who might conceivably be tempted to attend the end-of-season dance would by definition know who wields the microphone before the games.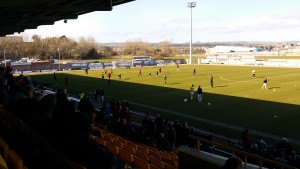 Delightfully, Arbroath started the game with a team wearing numbers 1-11, old-school style, and with East Fife nearly doing the same, with shirts numbered 1-8, 10, 11 and 19. Playing in white, the home started the game playing with the sea behind them, and found themselves soaking up the majority of the early pressure as Arbroath looked to get an early goal. East Fife survived an early scramble in their own goalmouth, but seemed to have trouble finding an outlet – several times I just wanted a defender to put his foot through the ball and send it clear, but far too often clearances were weak and the ball went straight to an Arbroath player just outside the area.
But the visitors couldn't turn possession into goals despite a couple of decent changes, and as the match went on East Fife came into it more, and after 22 minutes came the most controversial incident of the game. The home team forced their own scramble in the Arbroath area, with the ball pinging around, and it fell nicely to an East Fife player just a foot or two out. A split second before he could shoot, he was unceremoniously bundled over by the Arbroath 'keeper. Now, I don't pretend to be an expert referee and to understand all the intricacies of the game, but I do know that the sanction for "Denying an obvious goal scoring opportunity" is a red card. To everyone's amazement, and to the fury of those around me, a yellow card was eventually produced by the referee.
Let's think a bit about this … the player was two feet from the goal line, with no player in front of him, the ball at his feet and his foot about the strike the ball goalwards. That's about the most obvious goal scoring opportunity you're ever likely to see. I just can't understand what the referee could have been thinking – but you get the feeling this one wouldn't recognise an obvious goal scoring opportunity unless one appeared in the referee's room with klaxons and carrying a 10 foot high banner with bright red letters saying "I am an obvious goal scoring opportunity!"
When play restarted, justice was clearly not seen to be done, as the quality of the penalty matched the quality of the officiating – weakly struck, straight down the middle and easily saved by a goalkeeper who by rights shouldn't have been on the pitch.
This didn't improve the humour of those around me, especially one gentleman across the aisle who had turned into one of the angriest people I've ever witnessed. I do love watching ordinary people lose it at game, and this guy had lost it completely, so much so that I half expected him to suddenly turn green and lose all the buttons on his shirt. Every time the Arbroath number 7, who had contentiously won an early free-kick, this guy would swear at "the cheater", and he got progressively angrier and angrier as the game went on. I think he was the second most entertaining spectator I've seen this season, not quite up to the level of the guy at Carlisle United vs. Oxford United who kept up a steady stream of invective at his team's "Number four" – he clearly knew the player's name, but he was so angry, and hated him so much that he couldn't somehow bring himself to actually give him his name. Wonderful stuff, and one of the things that makes football so great, the fact that people can get so emotional and so angry about matches that 99.999% of the rest of the football world don't care a jot about.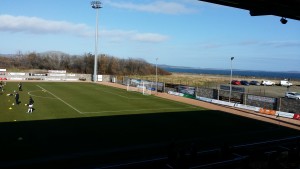 After the missed penalty the game opened up more, and turned out to be a very entertaining one. All it needed was a goal – and it got one with virtually the last kick of the first half. An East Fife free kick from just outside the area was nicely curled around the Arbroath wall and into the net – a lovely piece of dead-ball technique by number 10, the same player who'd failed so badly when presented with the ball on the penalty spot!
The second half was just as open, with Arbroath again having most of the play again and East Fife soaking up pressure and looking to attack on the break. Players who particularly caught my eye were the Arbroath strike partnership, numbers 9 and 10 – not so much because of their skills but because of their appearance. From my vantage point, the number 9 looked like a grizzled old centre-forward who'd been around the non-league block for years, possibly decades, had seen it all and who knew all the trick. With his strike partner, who as well as being instantly recognisable for his mane of ginger hair, they formed a partnership that was always dangerous but failed to make the vital breakthrough.
The player who most caught my eye was an East Fife one, though – their young number 19. As well as blinding pace he had a good range of skills, and he posed numerous problems for the Arbroath defence. By far the outstanding player in my eyes, he was head and shoulder above the other players – like a 17-year-old who found himself playing in an under-14s game.
Despite the menace he caused, as the match went on things got more and more nervous for East Fife, and they were only kept in the game by a superb double-save mid-way through the second half by their 'keeper, and East Fife substituted attackers in favour of defenders to try and hold onto their lead. Several times they looked unlikely to do so, but just as they'd scored at the end of the first half they repeated this in the second half. A pacy break up the left, a neat cross and a header into the back of the net doubled their led and secured all three points in a match I very much enjoyed.
Because I love football, but I hate all the hype, marketing and commercial rubbish that surrounds of much of it. And at East Fife I saw football just as it should be – not the highest quality, but a game played with real passion and commitment, in a lovely little ground that's basic but perfectly adequate for its team and community. No marketing, no hype, no dancing girls, no distractions from the game – just football, pure and simple. And all set against a backdrop of waves splashing against the breakwater of the pretty seaside town of Leven.
I'd recommend it to anyone, and I'll definitely be back.