Despite the imminent close to the season, I wanted to at least make one more addition to my "Fitba odyssey", and a visit to Alloa on a late Sunday afternoon was irresistible – and proved to be a great choice. Play-offs are nearly always worth watching, and this one proved to be no different. Alloa Athletic were fighting to preserve their status in the Scottish Championship, but faced an uphill battle after losing the first leg, away at Forfar Athletic, 3-1.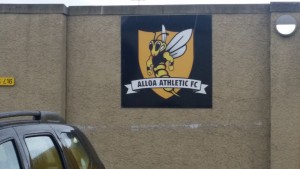 Sadly I didn't have much time to explore Alloa itself, leaving late and rushing up the M9 from Edinburgh, and fighting a fierce crosswind all the way, and the only highlight worth reporting on was The Kelpies, the stunning sculptures that tower 30 metres into the air right next to the motorway near Falkirk. These are truly a striking sight, and although I know that they're meant to represent water-borne equine spirits, I must be a philistine because I can't see or visualise anything beyond giant horses' heads.
Approaching Alloa, I was tantalised by signposts pointing the way to the "Towers Trail" and Alloa Tower, but they'll have to wait until another day and another visit, and when I arrived at the Indodrill Stadium only around 15 minutes before kick-off, I was able to find a parking space in a side street just a couple of minutes' walk away.  It had been a day of alternating sunny periods and showers, although as it went on the sunny periods had been getting shorter and the showers longer, and I barely escaped getting soaked in the short walk to the stadium.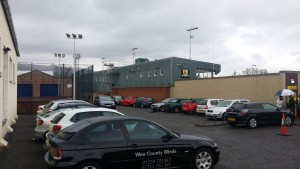 With no queue at the turnstile, I paid my £16, thinking "what a bargain", and headed into the ground. To my left was the main stand, a structure half the length of the pitch, with an unusual arrangement of seated accommodation upstairs and dugouts, tunnel and standing accommodation downstairs in front. Ignoring the refreshments kiosk and club shop, I headed right, to the small covered stand directly behind the goal. Initially I took up a position on the near side of this, but as soon as I worked out that the combination of wind and rain rendered the roof irrelevant in that position, I moved to the other side of the goal, where things were more sheltered and much drier.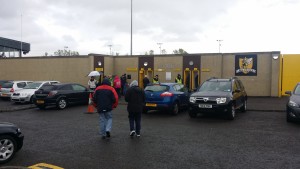 I didn't have long to wait for the match to kick-off, during which I took in the rest of the ground. Down the right-hand side, opposite the main stand was what looked like a temporary stand, but one that looked as though it had been in place a fair old time. It appeared to be covered in the kind of canvas you find in wedding marquees, fixed over a metal framework reminiscent of flimsy Meccano poles from a distance, although there was no sign of movement even in the strong wind. This stand, the perimeter fences on that side, and the uncovered terrace at the far end of the ground were all well-populated with Forfar fans who'd made the 66 mile trip in the hope of seeing their side win promotion. In the distance behind the goal, though, was what really caught my eye – a backdrop of striking mountains, their tops lost in low cloud that was getting lower all the time.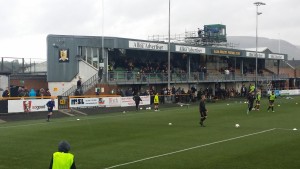 Back on the pitch, which was artificial but was virtually indistinguishable from a grass one in the way it played, there was the added delight of seeing two players who even someone as ignorant of Scottish football as me had heard of! Between the posts for Forfar was Rab Douglas, previously of Celtic and Leicester, and now aged 43 and looking every year of it – a great inspiration to anyone as old, fat and unfit as me! Facing him in attack for Alloa was Michael Chopra, who I had seen many times playing for Cardiff against Reading, and who had always been one of my least favourite players. Someone who always seemed to seemed to be an expert in the black footballing arts of slyness and cynicism, he's the sort of player who's loved by his team's supporters and absolutely loathed by the opposition's. I still bear a personal grudge against him for his performance, full of gamesmanship and nasty tricks, for Cardiff at Reading on Boxing Day 2008 – I'm still convinced he should have received a red card for his underhand antics that day. So I had mixed feelings – on the basis of backing the home team and backing the underdogs, and also because I was in amongst the home supporters I was supporting Alloa, but there was part of me that found it hard to want any team containing Michael Chopra to do well.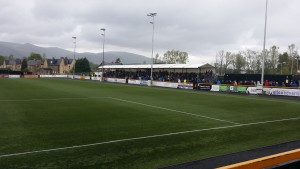 There were precious few chances in the first half. Forfar tried to play an open and direct game without committing too many men forward, and so didn't get much joy from an efficient Alloa team which soaked up pressure without any major scares – although the visitor's number 10 was always threateningly lively and happy to chase down lost causes.
For their part, Alloa had most of the attacking play, but few significant chances, and were mainly restricted to a few long-range shots. They looked tidy and organised, with their number 5 very comfortable on the ball at the back, with the guile and experience of Chopra in the centre, and their number 19 very quick and always threatening wide on the right. I was struck me, by how happy they were to pass sideways across the back to stretch the opposition as they looked for a way forward – and by how much they seemed to be lacking the sort of urgency I'd expect from a team two goals down in a play-off final.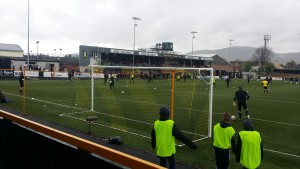 Alloa had most of the attacking play in the first half hour without any worthwhile chances, but Forfar rallied for a ten minute period and had some significant attacks, but again few chances. The best chance of the game so far, and the first moment of real class, came shortly before half-time, when Chopra made himself some space 30 yards out and let fly. I'm convinced the shot was on target, and it was tipped around the post by Douglas in a top-class, full stretch, even though the referee awarded a goal kick. But just a s the half was petering out, in stoppage time Alloa broke forward down the right, and a low cross was zinged in to the feet of Chopra – who else?- and he showed his class to score from just inside the Forfar box. A perfectly timed goal to keep the tie interesting – it was now an aggregate of 3-2 to Forfar, and the home supporters' hopes that had been fading were now suddenly revitalised.
At half-time I made a late decision to grab something to eat and something warm to drink, and despite what looked a formidable queue at the refreshment kiosk there was such efficiency behind the counter that this moved very quickly – so quickly, in fact, that I was back on the same crash bar behind the goal before the teams came out for the second half, clutching a cheeseburger and a hot chocolate that cost me just £2.50. That's £2.50 for both, not for each!
For the first 20 minutes of the second half, nothing much happened – Forfar were more defensive, happy to slow things down and waste time, and Alloa still didn't seem to play with any great urgency, so as the clock ticked down Alloa's hopes diminished further. But no-one had counted on the final quarter of the game, which was a cracker.
The drama started after 67 minutes, as a long ball forward from Alloa was bouncing just outside the Forfar area, and didn't seem to pose much of a threat, but Douglas and his centre-back both left it for each other, and as Chopra bore down on them Douglas took the only option available and cleared it out to the left. But it was a poor, poor clearance, straight to the feet of the Alloa number 19, who took aim and drilled the ball into the back of the net with Douglas still stranded on the edge of his area. 2-0 to Alloa on the day, with the aggregate scores now level – delirium in the stands and game now well and truly on!
Forfar now started to attack more, whilst Alloa still had the momentum and were pressing for a third goal to settle things, but there was more drama just seven minutes later. An Alloa attack broke down and as Forfar streamed forward, it looked like their striker had a clear run on goal, but he was taken out by a flying lunge that was about as late as a tackle can possibly be. About as clear a red card as you'll ever see!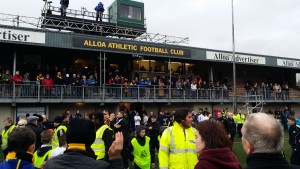 Things looked to turn ugly after that challenge, but the referee calmed things down as the momentum had shifted once again to Forfar – needing one goal to win in the final 15 minutes against ten men. They attacked incessantly, and it really was backs to the wall, bodies on the line time for the home defence. But despite a couple of close calls they survived manfully – I counted at least three top class, perfectly timed goal-saving tackles, and it looked only a matter of time before Forfar snatched the tie – even if they did have to wait until extra time to do that.
But five minutes from the end a rare Alloa attack was ended by a foul, the resulting free-kick was put out for a corner, and from that corner the Alloa number 5 rose beautifully and headed the ball into the net. Against the odds, survival for Alloa, as they played out the final time and just three minutes of added on time and keep their place in the Championship.
It was almost inevitable that there would be a pitch invasion, and it was a small scale, fairly sedate and very good natured one, which I shamelessly joined in – although as I sauntered out to join in other people's celebrations the words "John" and "Terry" did cross my mind more than once. But even though I was a bit of a fraud, it was wonderful to be a part of this shared experience, with a mixture of relief and joy from all around me, and also interesting to see the TV interviews and player celebrations at close proximity.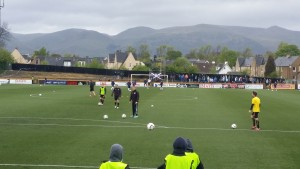 All in all, a top game that I'm so glad I went to, in a lovely little ground that's full of character, with an absolutely awe-inspiring scenic backdrop. The Alloa fans seem a decent bunch of lads – with the possible exception of the annoying 12-year-old "hoolie wannabes" near me who had no interest in the game and left twenty minutes from the end. But this was a really enjoyable trip and, I'm sure, a ground I'll be back to again. I even got a voucher for £10 off an Alloa season ticket next season – tempting, but I'll see what else Scottish football has to offer before I make such a long-term decision.