When I started this "fitba odyssey" I made a point that I'd be discovering new places across Scotland, then I started by walking to Easter Road, just a short wander from where I now live. For the second visit, I'm breaking that resolution in two ways.
Firstly, I wasn't actually in Scotland at all for this one, although I was at a Scottish club. Secondly, I wasn't discovering a new town at all, but one I do actually know fairly well. I'd come to Berwick Upon Tweed to watch the Scottish FA Cup 5th Round Replay between Berwick Rangers and Spartans FC. The Edinburgh team were bidding to become the first non-league club to reach the quarter-finals of the competition for 55 years, whilst an away tie at Hibs was the lucrative reward for whichever team was the winner.
I was looking forward immensely to the game – not just because there's nothing like a good cup tie, with both sides throwing everything into it and only sudden-death elimination waiting for one of them, but because it offered me a chance to get reacquainted with Berwick, even only briefly and in fading light. Because in my twenties, for two years running, I'd spent a week's holiday in Berwick. Admittedly, events in the second one went a long way to breaking up my first marriage, but that a whole other story.
Despite that (or perhaps because of it!) I have a great affection for Berwick and as I got off the train at the Berwick station, a station that still shows signs of a splendid past although it's obvious that its glamour days are slightly behind it. The light was fading as I left the station car park and wandered slowly down Castlegate towards the town centre. This is a lovely street that brings to mind a Jimmy Carr joke – "If you want to see what Berwick Upon Tweed looked like in the 1960s, go there now."
For Castlegate has immense charm, masses of individuality, but it does give you the impression that it's looked exactly the same for decades. There was a proper wool shop and haberdashery, a pet shop where the goods in the window were priced with hand-written pieces of paper stuck on with sellotape, a picture framing shop, several hairdressing salons with equipment that looked unchanged for decades, an old-style butchers, and an art gallery which, inexplicably, seemed to have its own in-house bakery. This certainly wasn't a street where there was an evidence of new technology or modern retailing techniques, but it was a street I greatly enjoyed wandering down. Most endearing of all was a toy and model shop which had, displayed proudly hanging from wires in the window, scale models of Concorde and a Vulcan bomber. I wonder just how long ago those models were fixed in place – presumably it was a time when they were the epitome of go-ahead modernity.
It was now dark and Castlegate was virtually deserted, but before I left I did take advantage of one of the few shops still open, a fish and chip shop – and I didn't regret that decision for a moment, as I sat eating an excellent portion of chips on one of the many benches close to the bridge where the town walls cross Castlegate. It was too dark and time was too pressing for me to venture onto the walls myself, but it's something I've done before and something I've promised myself I must do again.
Now, when most people think of walls around a town of city they think of medieval style walls built of stone, as in York and Chester. But the walls of Berwick are quite different and, I believe, unique in their design and completeness. The chequered history of Berwick, as a major port on the border and the main route between London and Edinburgh, which was constantly fought over and captured countless times by English and Scottish forces, meant that its strategic importance lasted longer than that of many other towns – and well into the gunpowder age. By 1560, when the decision was made to update Berwick's defences, warfare had changed and the use of cannons had rendered old-style stone walls useless.
And so Berwick's walls are essentially wide earthworks, faced with stone only, so that incoming cannonballs would just embed themselves harmlessly into the ramparts, rather than bring any walls tumbling down. At the corners of the walls, too, are large imposing gun platforms, with ramparts that fan out in a series of triangles to both deflect incoming fire and to allow favourable firing angles to repel attackers. The walk of around one and a half miles around Berwick's walls also offers a range of lovely views over the Northumbria coast and the mouth of the Tweed, as well as passing close by the first purpose-built infantry barracks in England, and I'd recommend it to anyway for a lovely stroll – light and weather permitting!
For me, once I'd demolished my chips, I was in need of a drink, and I walked on towards the ground in the hopes of finding a charming old pub full of history and character. After turning right at offices of the "Berwickshire News" – a bastion of old-school respectability if ever I've seen one – I soon realised that my last chance of a drink before leaving the town centre was "The Leaping Salmon", just before the bridge across the river. But I'd completely and utterly failed to find a charming old pub full of history and character, it was a Wetherspoon's, and so more or less the same as every other Wetherspoon's under the sun.
Functional but unexciting, it was a nice enough venue for a swift pint amongst the families having a Tuesday meal deal and the workers enjoying a drink before heading home, as well as those settling in for an evening in from of the televised Champions League match. The number of Chelsea shirts to be seen in a pub 350 miles from the Fulham Road says a lot about why times are so hard for local clubs these days. The only notable experience that marked this pub out from any other one happened in the loos. Nothing as dramatic as you might be thinking, though – it was simply that some enterprising person had decided that the best place for the waste basket for used paper towels was directly underneath the hand-drier. This meant that pressing the on button on this resulted in a very amusing and surreal vertical cascade of used paper towels. As an art installation it was inspiring – as a way of keeping the floor tidy it was an abject failure, so I left the pub, thinking to myself that surely I can't have been the first person to ever use that hand-drier and discover this localised atmospheric phenomenon.
I'd earlier cursed my lack of planning when I realised that my views of the Royal Border Bridge would be limited by the darkness. This is the superb 28-arch railway viaduct, built by Robert Stephenson between 1847 – 1850, which spans the River Tweed just upstream of Berwick. Truly it's an engineering masterpiece, and as I'm always a sucker for those I was kicking myself that I'd not get a decent view of it as I walked out onto the Royal Tweed Bridge – an uninspiring 1920s single-span concrete road bridge which nonetheless offers stunning views both of the viaduct and the much older low road bridge – in the light, at least!
And true enough, as I looked to my right I couldn't see the viaduct, but then, all of a sudden, I could, as a captivating series of coloured lights at the base of each arch lit up in turn. Yellow, red, turquoise, sometimes with the colours chasing along as though following the motion of a train, it was a lovely surprise, and one that held me spellbound for a good five minutes. All power to whoever is responsible for this – I thoroughly approve.
But there was a football match waiting for me, and so I walked on towards Shielfield Park, a trudge ten for ten minutes or so up a hill and then through a fairly anonymous housing estate, then down a short lane to the ground itself. I noticed that I was about the only one heading in that direction, and so anticipated a sparse crowd, even though I'd read that Spartans were bringing 11 coaches down the A1 from Edinburgh. But once I got to the ground, a few minutes after 7pm, there was a noticeable queue of cars waiting to pay the car park fee.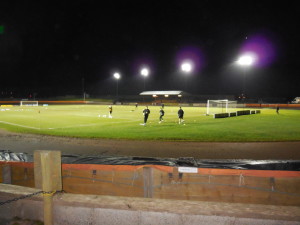 Walking across the car park I narrowly avoided being mown down by a u-turning Range Rover, so went into the ground as quickly as possible. Twelve pounds represented super value, and there were no queues as I entered the ground. The most obviously striking feature of the ground was the speedway track around the pitch, with padded bumpers on the curves behind each goal. To my immediate left were the club's social club, various toilets and other facilities, and leading down to the main stand, around 12 or so seats deep, alongside the pitch on the left. Opposite this was a covered stand, a cowshed over terracing, which already held a fair number of raucous Spartans fans whilst the main stand was still sparely populated.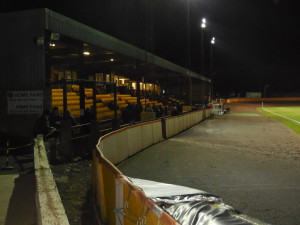 After a brief wander around the ground, I took a seat at the front of the main stand, and waited for the match to begin – but that was to take longer than I expected. A few minutes before the designated kick-off time of 7.45pm, it was announced that due to the weight of crowds still outside the ground that kick-off had been put back to 8pm. Without wanting to be condescending, I'm sure that's not something that happens very often at Berwick, and it's a sign of how this match had captured the imagination, especially amongst Spartans supporters.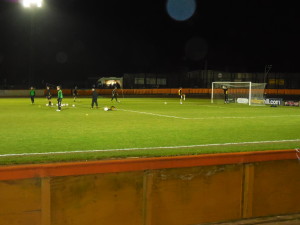 By the time the match did start, it was fairly heaving in the ground. There was barely a spare seat in the main stand, and opposite me the cowshed was packed solid, with crowds all out along the right-hand side of it and a good noise coming from there. I was sat between a Spartans fan and a Berwick fan, but all the conversation was good-natured and friendly – no need for segregation here!
Within a few seconds of kick-off, we had the first drama. The ball was played to a Berwick player, and as he released the ball he was caught, high and late, by an over-enthusiastic Spartans midfielder. At this point, one of those weird unwritten rules of football comes into play – at any other point in the game that would have been an unquestioned yellow card, but not in the first minute, for some reason. In the same way, when the resulting free kick was blocked by a Spartans player who was only about five yards away, and the referee's cards stayed firmly in his pocket.
The first half of the game was an interesting encounter. Berwick had the better team with the better shape and organisation, but several of the Spartans players showed the best individual touches, skill and inventiveness. And although Berwick had the bulk of the possession, with their number 7 in particular always looking a threat down the right wing, it was the non-league team who had the best early chances. A superb run into the Berwick box from deep in midfield, taking four Berwick players out of the game was am early highlight, but the shot that resulted from that went just wide, and a superb piece of imagination saw a long-range lob from close to the touchline 40 yards out had the Berwick 'keeper scrambling backwards as the wind carried the ball towards the goal.
But although the Berwick goalie was the busiest of the two in the first half, his counterpart was the one who had to pick the ball out of his net. After half an hour Berwick won a corner, and the delivery of this was absolutely superb – as good a delivery as you'll see at any level of football, swinging away from the goal in the wind. This fell nicely for Berwick's number 9, who made no mistake with his finish.
This spurred both teams into life, and the remainder of the half was nicely open and free-flowing, with some nice moves but no significant goalmouth action, and we were setup nicely for an all-action second half.
But sadly it never really materialised, as after half time we had what was a largely error-strewn anti-climax. I don't think I've ever seen a match where the ball has gone out of touch quite so many times, and both teams largely cancelled each other out with Berwick sitting back to defend their lead but always looking to hit Spartans on the break. But that complements the half – it really was a bit of a disjointed mess, to be honest.
For much of it neither goalkeeper was much called on, and I must admit I was surprised by the tactics employed by Spartans for much of the half. To be one goal behind in the second half of a vital cup tie and to have only one player up front for most of the half made no sense to me, and it was only towards the end of the half, following a couple of substitutions, that the visitors started throwing the kitchen sink at the Berwick goal. They managed a shot which cannoned off the Berwick crossbar with eight minutes to go, but that really was about it, and I was left with the feeling that Spartans might have got something out of this game if they'd gone for it more and committed men forward. It's a cup tie, after all, and a loss by one goal is just as bad as one by three or four goals. Nothing ventured, nothing gained and all that…
And so the game ended in a bit of a damp squib, with a poor second half after a first 45 minutes which promised so much. The game won't linger long in the memory, sadly, but it was still an enjoyable visit to Shielfield Park. As a ground I'd have to rate is as strictly functional – I'd love to say it was charming, as small grounds often are, but to be honest there's not a lot of charm about it, and its distinguishing features are mainly negative ones. For instance there's no escaping the fact that this is also a speedway stadium, which places the pitch a long way away from the pitch, effectively makes the ends unusable for supporters, and introduces obstacles like the starting lights and pit lane apparatus into sightlines. In its favour, though, it must be one of the few grounds where, if you sit in the right place, you can see trains traverse the East Coast Main Line at speed!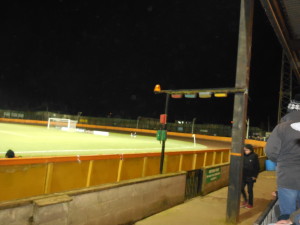 So Berwick go on to the next round, but as a postscript I think the real winners from this tie were the owners of the chip vans on either side of the pitch. Through the whole 90 minutes I don't think the queue for the one I could see from my seat was ever less than about 30 long, and just about everyone walking past seemed to have a portion of chips in their hands. This included about 3 or 4 groups of teenage girls who walked past countless times, with chips every time. I surmise that they came to the football on cheap busses from Edinburgh, but once there turned out to be bored out of their brains by the football, and despite the great atmosphere which their fellow travelling supporters generated decided that their evenings would be best spent parading backwards and forwards instead. It takes all sorts, I suppose, and if that's how they want to spend their evening good luck to them – perhaps one day they'll be enlightened enough to understand the vicarious pleasure to be gained from travelling 60 miles on a cold and windy February night to watch an error-strewn match in a speedway stadium.